Hippity-hop! Are you ready to make your Easter celebrations egg-stra special this year? Join us as we explore some adorable meet and greet photo opportunities with the one and only, Easter Bunny!
Fun-Filled Family Adventure
Lost Treasure Gem Mine guarantees a fun and exciting adventure for all ages!
Become A Treasure Hunter
Experience the fun and excitement of mining for lost treasure!
Mine Your Own Gemstones
Live an adventure from days gone by as you mine for crystals, gemstones, and fossils from around the world!
Dark Woods Re-Opening March 25th!
Adventure awaits at Dark Woods Adventure Park in Natchitoches. This family-friendly outdoor theme park features a variety of activities and attractions to enjoy, including Lost Treasure Mining Company, Louisiana's only outdoor gem and fossil mining attraction, delicious food, and the new Bear Factory at Dark Woods. With a mini-golf course in development and scheduled opening in the near future, this park is sure to be a hit with visitors of all ages!
Additionally, special seasonal events like Happy Easter Hop Along, Dark Woods Haunted Attraction and Dark Woods Christmas, retail shops, an ice cream shop and great food make Dark Woods Adventure Park a popular destination for a day of exploration and adventure March – December.
Whether you're looking for a day of fun or a weekend getaway, Dark Woods Adventure Park is sure to have something for everyone!
The Easter Bunny Is Coming
Nothing makes the Easter holiday more special than getting to meet and greet the Easter Bunny at Dark Woods' Happy Easter Hop Along event!
This is a great way to keep the Easter spirit alive, so come join us this holiday season!
DARK WOODS' LOST TREASURE MINING COMPANY
The crystal experience was incredible. Had so much fun. The cast members were all very nice, and I enjoyed every second of my time there.
– Alex N.
Had a blast here!! The staff was amazing and friendly. Can't wait to visit again! Don't forget to try the vanilla donuts with powdered sugar melts in your mouth!
– Jammie C.
We had such an amazing time, the staff were super friendly and made us feel right at home. There is so much variety in what you collected it was an awesome adventure for everyone involved. Best way to celebrate my littles ones adventure bday. Will be going back as much as possible. Keep it up guys, you are giving us something to do when we need it most.
– Jessica C.
The folks here are incredibly nice! They took the time to explain everything about the rock sluice to my kiddos and came around to see how we were doing through out our stay. I love the cute, campy outdoor environment, the snack shack is awesome. Everything is just awesome.
– Stacey
Molly Moo's Soft Serve & Sweets
Great Treats Are Waiting For You
Enjoy a shady spot to sort your treasure, cool off with cold drinks, great food, enjoy our NEW Dark Woods Dole Whip Pineapple soft serve and floats, or out of this world Dippin Dots in your favorite flavors!
Molly Moo's offers a variety of other selections including hand-made candies, Dippin Dots, ice cold drinks and more!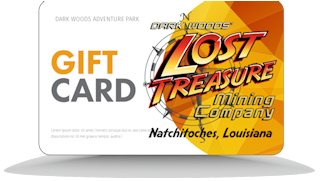 Purchase the Perfect Gift: A Card With A Value Of Your Choosing
Located just off I-49 in historic Natchitoches, Louisiana. The Lost Treasure Mining Company attraction at Dark Woods Adventure Park has been called "one of the most amazing hidden gems in Louisiana, and you're not going to want to waste any time checking it out. " ~ Only In Your State – Louisiana